What is my passion?? Passion can be defined in many ways in relation to your career.
Christie Mims, the founder of the Revolutionary Club, a Forbes Top 100 website for your career, wants people to separate their passion from their job. According to her, in the grander scale of things, passion is bigger than just your job.
So, what is passion?
Basically, passion is who you are and your job is how you express that passion.
Passion is your North Star and your job is fueled by your passion.
Finding out what is your passion takes a little bit of courage in order to get off the beaten career path and embrace who you are and what motivates you to do good work.
"You can be known for being a strategic thinker. You can be known for being the person that's calm in a crisis. You can be known for being the person who has a great sense of humor who is able to connect with people." You can help identify some of your best qualities to find your passion by thinking about some of your biggest personality traits that are positive and start to socialize those traits with yourself and learn ways you can best communicate them to others.
In the podcast, Christie shares how to find your passion and how to turn that into a career that you love.
Listen here!
About Christie Mims
Christie Mims is the founder of a Forbes Top 100 website for your career, The Revolutionary Club – THE Destination for Smart Women Who Won't Settle For Anything Less Than Career Happiness. Christie was also named a top career expert in 2016 and her work has been featured all over the internet.
Christie is an expert in finding and doing things you're passionate about and how to turn it into your career. Her mission is to help people find work they absolutely love.
Currently, Christie is providing a free 5-day Passion Challenge to uncover your passion and feel excited about work again.
Click here to find the passion for work you love!
What is My Passion? What You Will Learn
How to stop listening to the noise of following the safe path and how to break away from the path of least resistance
What passion really is and how it relates to your job

What is passion v. What is hobby

Embracing more of who you are and taking a risk to find your passion
How to find what drives you to enjoy the work you do
Relevant Links and Resources
Check out Christie's work at her website: The Revolutionary Club
Follow Christie's work on Facebook
Connect with Christie on Linkedin
Follow Christie on Twitter: @RevolutionsClub
Get in touch with us!
Email:  Scott@happentoyourcareer.com
Twitter: @htycbiz and @scottabarlow 
Come join us over on Facebook in our Work You Love OneStop group!
Love the show? 
Subscribe to the Happen to Your Career podcast:
Leave us a review and help us to reach more folks just like you and help them "Happen" to their careers!
 Want help finding the work that fits YOU?
Are you at a point in your career where you find yourself asking, "Okay, now what?" Click on the link below to check out our FREE 8-day course to "Figure Out What you Really Want for Your Career!"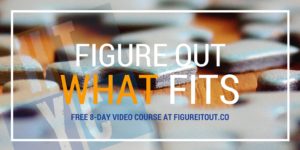 For helping finding YOUR signature strengths, enroll in our FREE 8-day video course at figureitout.co!