Happen to Your Career Speakers and Work Shops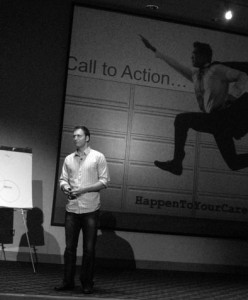 We do speaking and workshops to provide information and experiences that can change lives. The content that we provide is principle based, inspiring, and actionable. Our goal through speaking and live events is to change the way people think about their lives and their career. You can have work you love, we can help you get there.
Full Service Career and Job fair Package (We will create, organize, and execute all the workshops you need to complement your event complete with main Keynote event)
Speaking or Presentation on a range of topics
Customized Workshops for your group- See popular events and titles click here
Scott Barlow was wonderfully entertaining, and I loved hearing his examples. The word 'no' is definitely going to become a large part of relieving myself from all of the additional things that I don't need to do, that are cluttering my time, and making me feel overwhelmed at the end of the day!
Thank you to Scott, and Global Connections for this enlightening evening!
Event Attendee from Washington State University
Inquire about our workshops or book one of our speakers today! contact info@happentoyourcareer.com
Mark Sieverkropp
Mark has worked in a variety of industries and roles throughout his career including Human Resources and Staffing, Agriculture and Insurance and Underwriting. He thoroughly enjoys helping others get on the path to careers they love but is especially adept with entrepreneurs and small business owners.
His range of topics include subjects such as vision, culture and intentional leadership but he delivers inspiring presentations about start ups, hope and accomplishing dreams as well.
For more about Mark click here.
[hr]
 Scott Anthony Barlow
Scott is the founder of Happen to Your Career. He is a recovering HR pro turned career and passion coach that has been speaking, training and doing workshops for about 10 years. He is passionate about helping people find work that suits their strengths that they love no matter where it is.
His specialties focus on strengths discovery, happiness and purpose as it relates to work and career transition.
For more about Scott click here.
Loved the technology! Scott has great charisma! Very effective talk and great topic for me.
Scott Barlow was a really powerful speaker. He provided a lot of great tips on time management and
on life management. I'm really grateful to have been able to receive this information.
Event Attendee from Washington State University