Want a career that fits you?
How about a career that allows you to grow and uses your natural strengths?
How about one that's fulfilling and meaningful to you and allows you to live the lifestyle you want?
We can help! Find out if Coaching is a fit for you!
Figuring it out on your own is hard… and no wonder
You might have this nagging feeling that you're not using your strengths, but really don't know what to do about it, much less change careers to "the right one" for you.
Maybe you're I'm struggling with determining how to move forward–what type of job/career should you be looking for that would play to your strengths and provide you with the things you're looking for from a career (e.g., making a difference, a great working environment, a supportive boss)?
You may even be really good at what you're doing (So good that people don't notice when you spend part of the day scrolling the internet) but you're bored and it's hard to concentrate on making a change.
You've probably already tried to make a change. It's hasn't worked, it's overwhelming to figure out what you should be doing and so you haven't been able to make the movement you've wanted.
Having an expert guide you means success, without wasting time.
We understand that you want someone to help you define what you want to do (and break through the wall of confusion and frustration) if you already knew you would be doing it already!
We help you identify your strengths so that you know where you can be the best version of you (we also help you use these to understand how you can to target the right opportunities/companies.
We're pretty badass at helping you definine objectives, strengthen your marketing and pitch, and understanding the road blocks in your style! All while defining a long term strategy unique to you!
We know you want help sifting through the options you've considered to really dig into what is a good fit vs. what isn't. That way anything you do is fitting to your personality and strengths and lifestyle you want to live!
Identifying your Signature Strengths
What are you the best at? how can you add immense value to the world?
Design your life
What is most important? Identify the life that you want to live and what is possible for you
Ideal Career Profile
Identify what your ideal opportunity looks like – You have to know where you're going to be able to map a route to get there!
Career Matchmaking
Identify opportunities and companies that are a fit with your ideal career profile
Plan and Strategy
Create your Career Strategy, focus only on the methods that will actually help you get there, Determine what it's going to take to get you there!
Execution
Execution begins! This is where we save you time and effort by helping you focus on exactly what is right for you and make tweaks to your process along the way.
Help exactly were you need it!
This step can include everything from teaching you networking, interviewing, applications, resume reviews, job offer negotiating, energy management and much more. it's completely tailored to your most current needs!
I finalized the deal this evening. Everything has come in where I wanted it. I appreciate everything you guys did to help me! Jerrad Shivers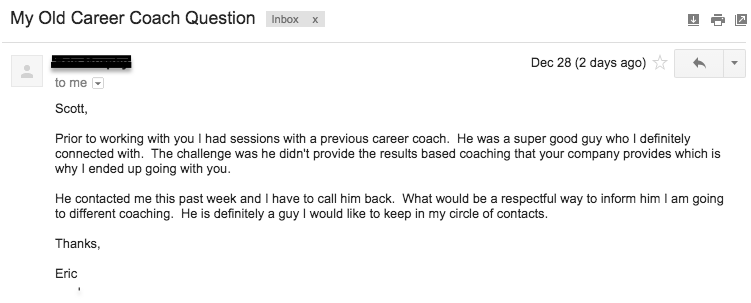 "When I started I was afraid of making the wrong decision!
My career was incredibly important to me and I didn't want to screw it up or waste time making a move I wouldn't enjoy!
Scott helped me learn what my strengths are and what is most important to me… but more important than that I learned about what I can't stop doing that I have to have in my work to make me happy"
Rhushi B.
I called Happen to Your Career and decided to reach out to a coach that is impartial with no vested interested like my family.
Lisa was amazing! …It was helpful working with her because she helped me think about structuring how to talk to people about what I'm looking for and moving forward. There were moments when I would avoid an issue in my search and she would call me out and ask what I thought I was protecting by avoiding it.
I would have never thought before our coaching sessions that radical authenticity could take me this far! My presumption had always been to mold myself to what I thought people were looking for, and now that I've gone through it being authentic and honest, it's nothing short of liberating. I feel like I'm standing on my own ground, which I can't say that I have in interviews I've done in years prior.
I got to speak with someone at the firm this morning about some of those issues, and I think I feel pretty good about where the offer is.
It's a major pay raise for me, and it's a good salary starting point for the area. I'll be reassessed over the next year, and bonuses and such come out as well by the end of the year. I think all that's left really is pulling the trigger to send the email and letting them know when I want to start. Whew, talk about a whirlwind!
Rebecca Maddox, Attorney
1. You apply and schedule a time for your Pre-Coaching call! On the call we determine if coaching is a fit for you. If so we get you signed up!
2. Begin immediately with your coach by defining your goals and charting out your personal coaching plan
3. Your coach and you meet via Skype or Zoom with action items in between sessions to help you rapidly reach your goals!
Scott Anthony Barlow
CEO of Happen to Your Career, Head Biz and Career Coach