About this episode
Are you looking to make the move to a career that fits you?  How about taking an inside look at how our process for finding work you'll love REALLY works?  
Eric Murphy is an HTYC'er who took the time to identify exactly what he wanted in his career and in his life and then put together a plan to get it all.  You'll hear how he figured out what was most important to him in a role and in company culture and how he then targeted only those companies that met his criteria.  Find how being intentional about your job search can get you the results you really want!
What You Will Learn
You'll get an inside look at how the HTYC process REALLY works to help you find the work you'll love? 

Find out how far a 15min phone call can take you in landing the job you want

AND…the old dating as career analogy makes a return!
Relevant Links and Resources: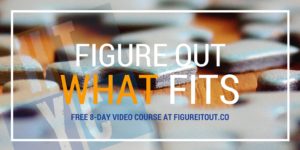 For helping finding YOUR signature strengths, enroll in our FREE 8-day video course at figureitout.co!
More Figure Out What Fits episodes!:
HTYC 122 Know Your Strengths (revisited!)
HTYC 105 What's Holding You Back?
HTYC 106 Overcoming Mental Barriers
For more information on finding your strengths:
For more info on finding the work that fits you:
Get in touch with Eric!
Got a question for Eric?  Leave a comment below!
Get in touch with us!
Email:  Scott@happentoyourcareer.com
Twitter: @htycbiz and @scottabarlow 
Come join us over on Facebook in our Work You Love OneStop group!
Love the show? 
Subscribe to the Happen to Your Career podcast:
We would LOVE it if you would consider leaving us a review!  Each review allows us to reach more folks just like you and help them "Happen" to their careers!